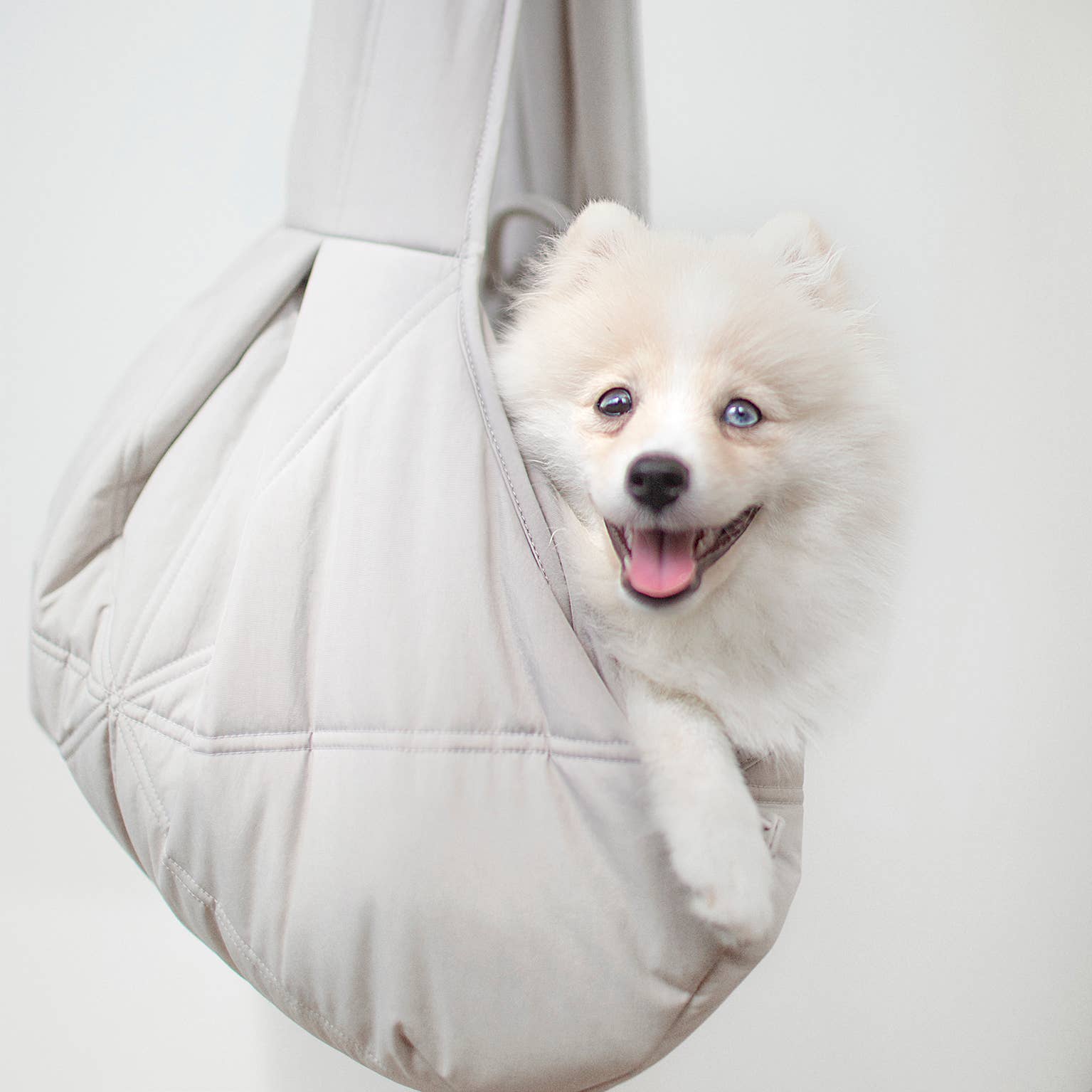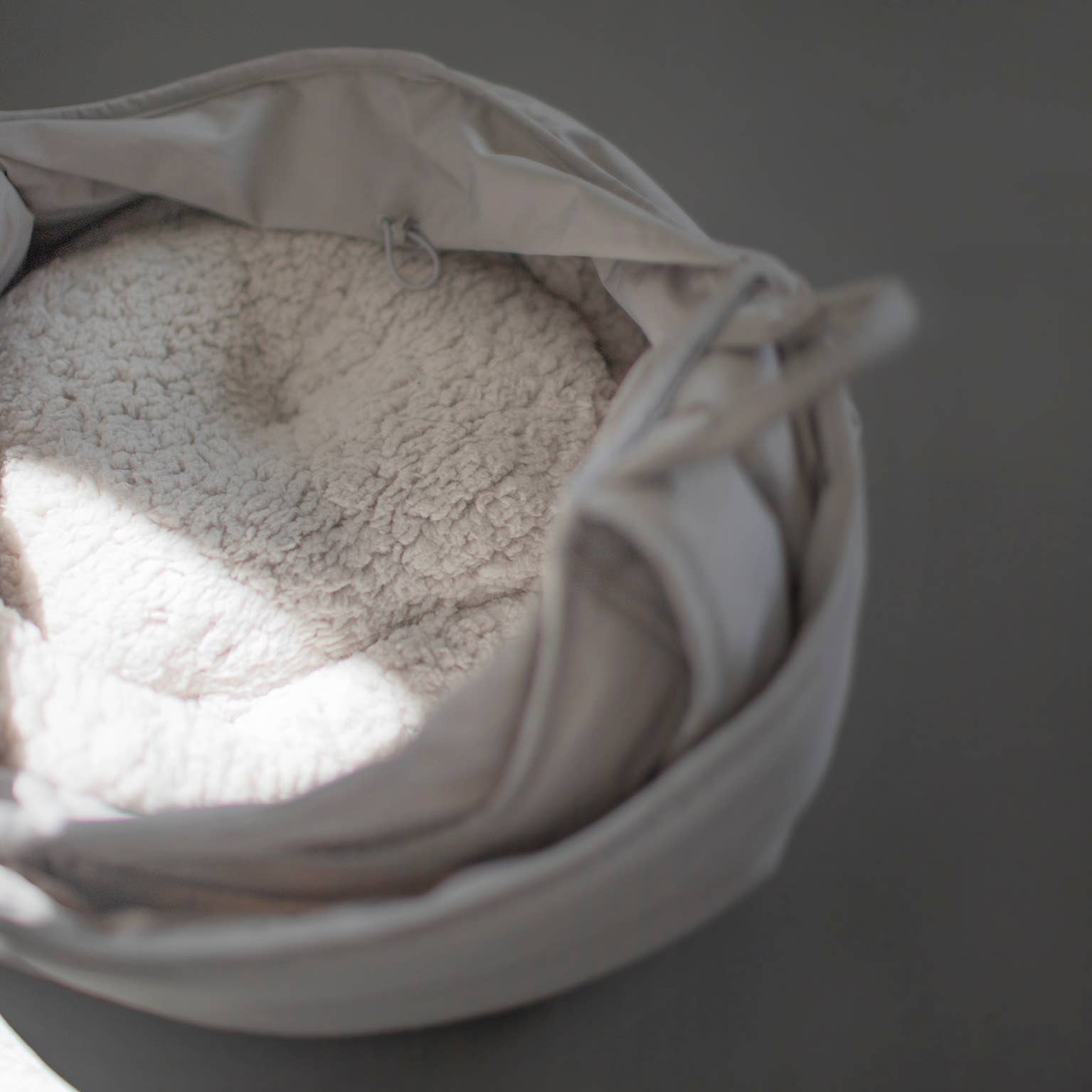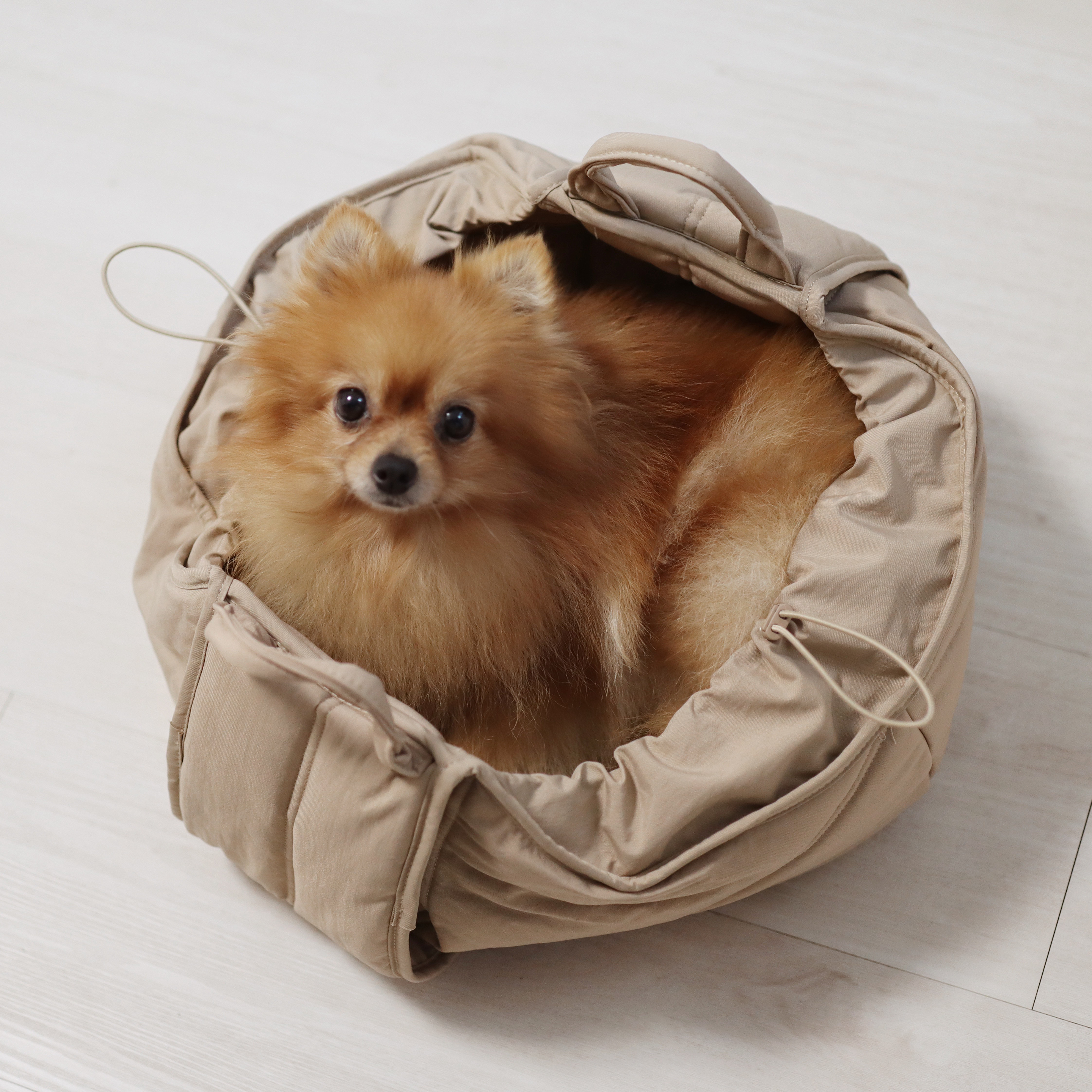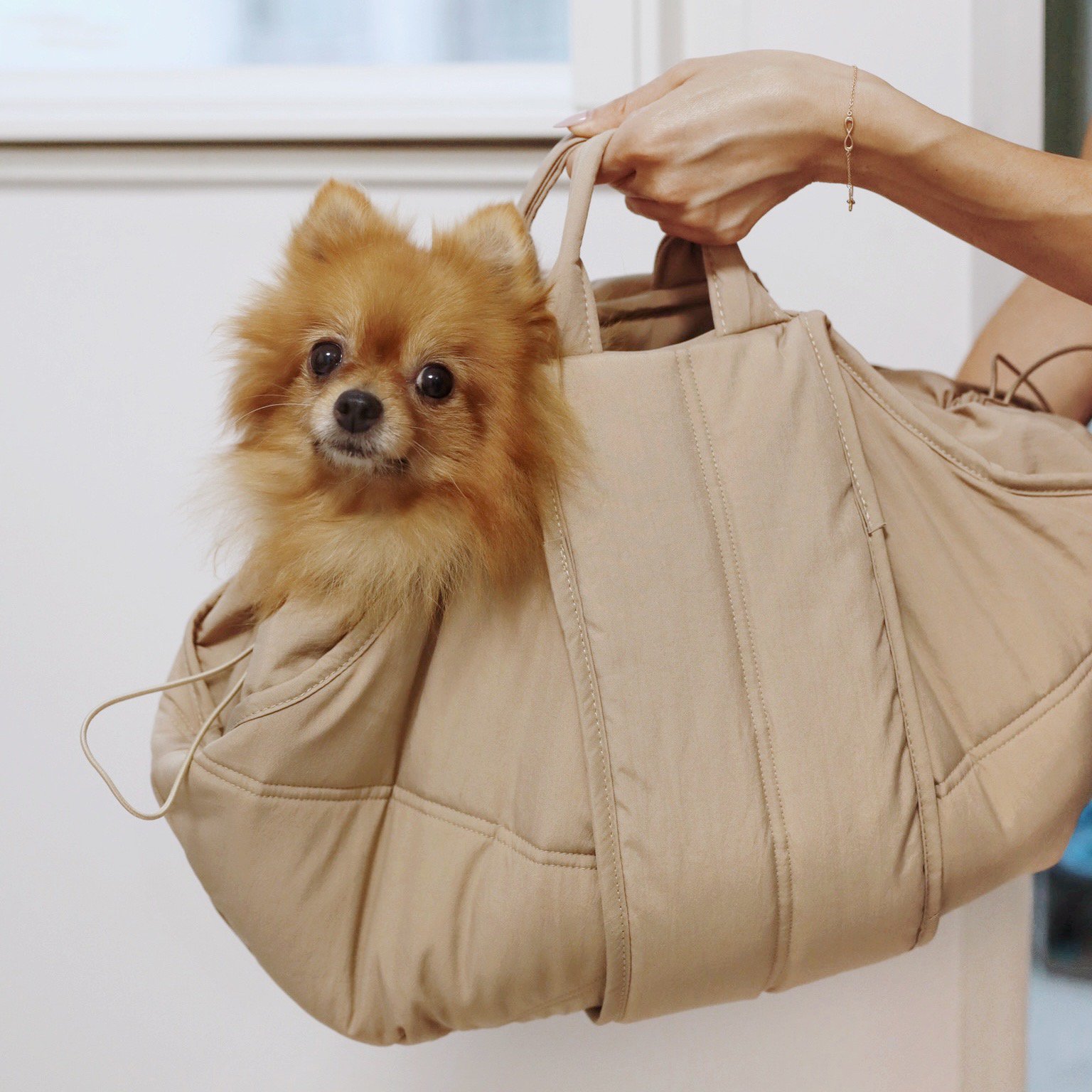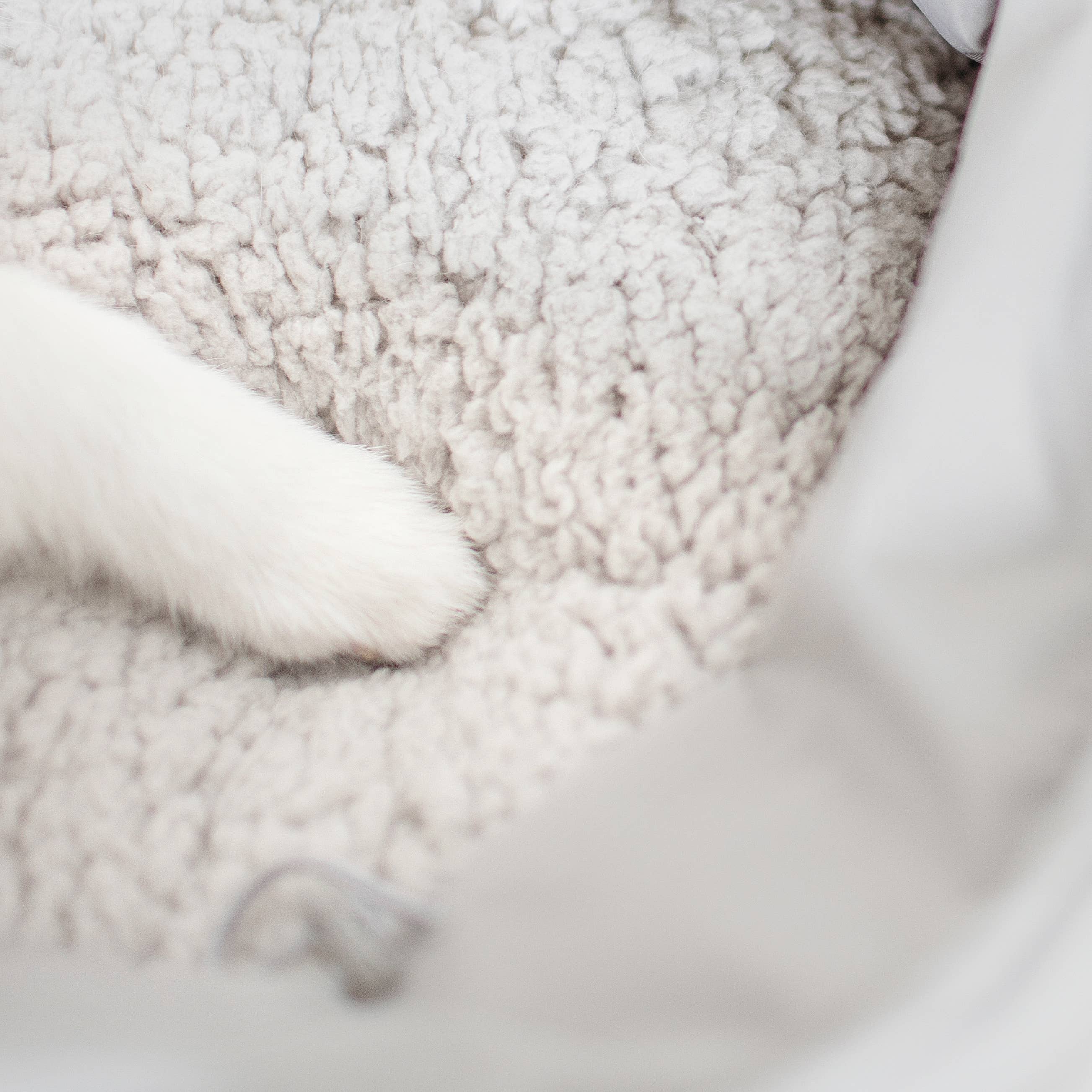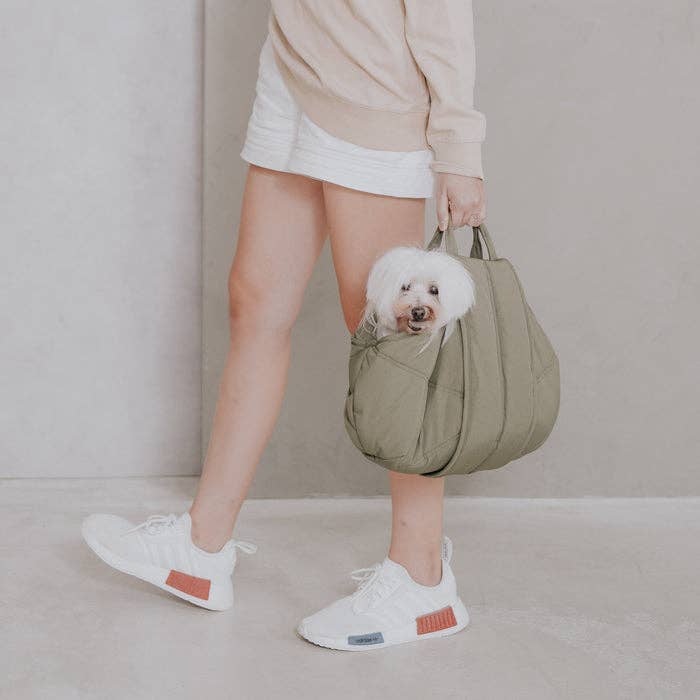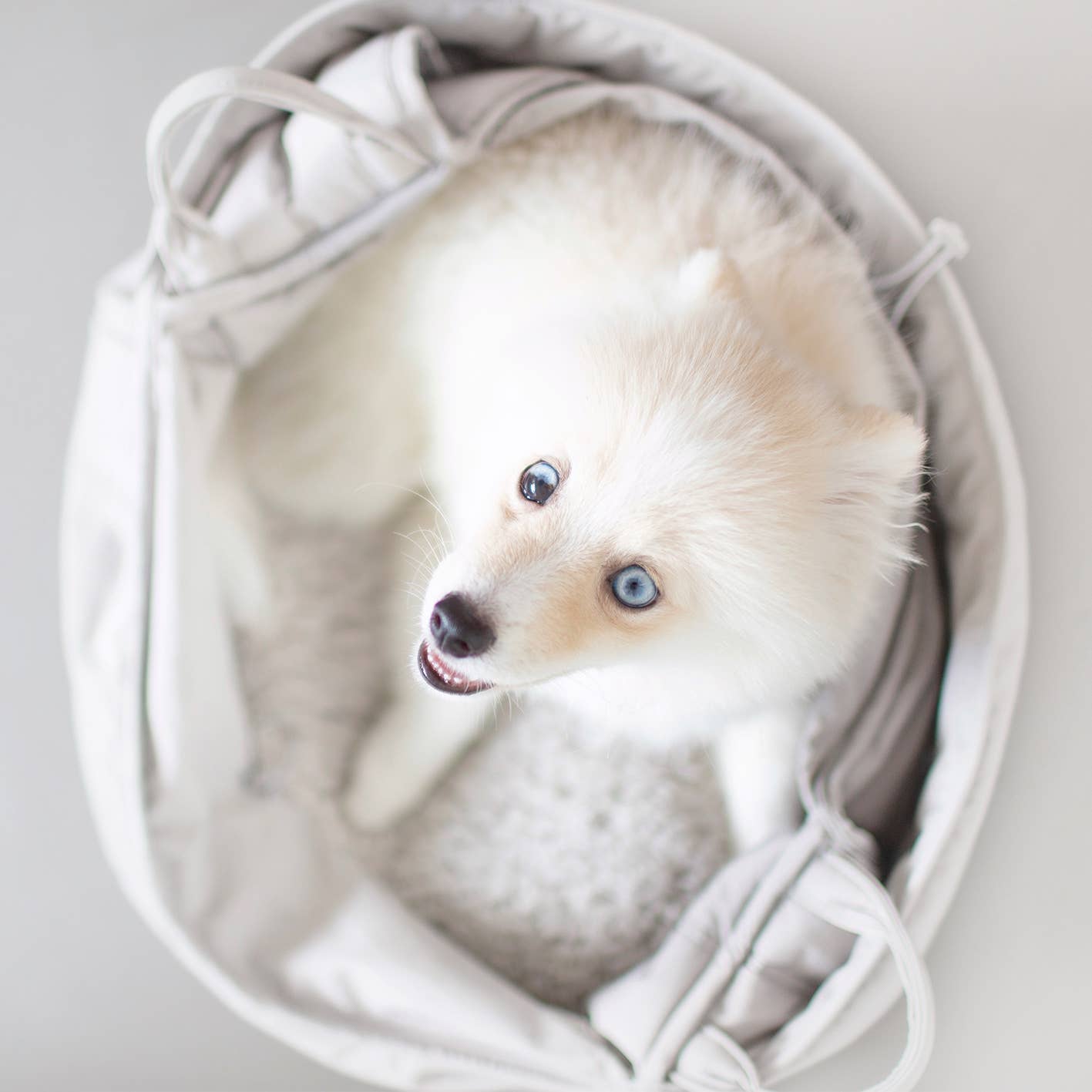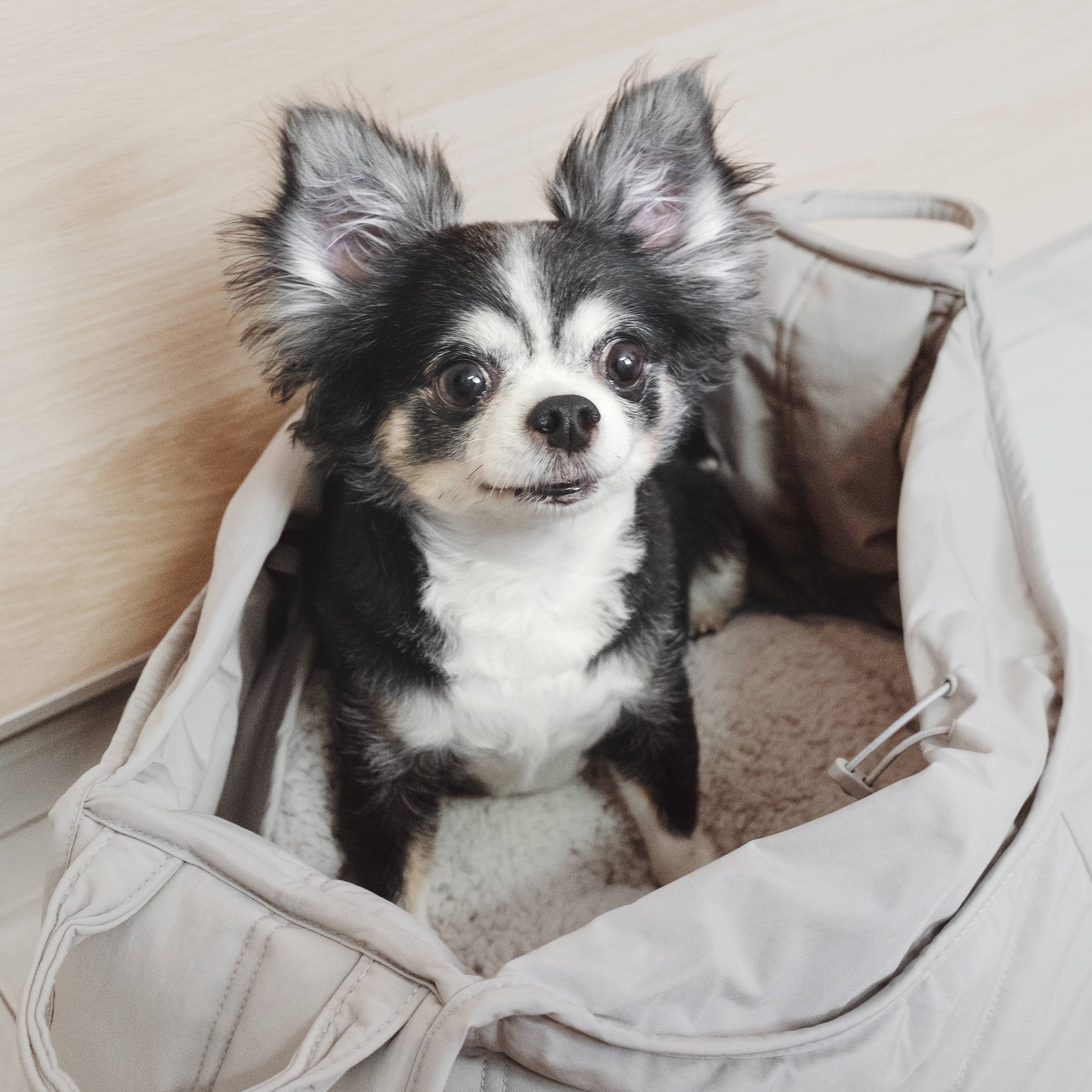 OLLA Petite Pet Carry Cot / Bed, Koala
OLLA is a stylish travel bed, a carrier, and a sling. A versatile and lightweight carrycot designed for small pets up to 11 lbs, it provides a portable and comfortable space for your little one to curl up. The reversible cushion, with a fluffy side and a nylon side, helps with temperature regulation. The size of the opening may also be adjusted via elastic cords.
Perfect for a full day's stay in an office, a sleepover at a friend's home or bringing your friend out on jaunts out with you. Olla features two handles and can also be converted into a sling for short commutes. A safety belt inside attaches to a harness or collar.

Recommended for small dogs (such Pomeranians, Yorkshire Terriers, Chihuahuas), bunnies, kitties and puppies under 11 lbs.

Please note that while the size of the opening may be adjusted, it will not close completely. This product is designed as a cozy portable resting space with a handy option should you want to carry the pet around but it is not a carrier made for long travels. The bottom of OLLA is padded but it does not have a hard backing.


Lambwolf Collective
Made in China

Overal dimensions: 15″ x 15″ x 5″ 
Cushion: 2" thick 
Padded strap: 5¾" wide x 31" length
Weight: 1.16lbs


Wipe to clean the breathable, water-resistant nylon fabric. Both the cot and the removable cushion are also machine washable.
OLLA Petite Pet Carry Cot / Bed, Koala
FAQ
Shipping Cost
$9.99 Flat Rate Shipping for most items. Complimentary Shipping on purchases of $299 and more.
Exceptions: oversized items and greeting cards. See shipping policy for more details.
Store Pickup
In-stock items are available for store pickup. They are usually ready within 24 hours. Select "Store Pickup" during checkout. You will receive an email notification when your order is ready.
Returns and Exchanges
Refunds are issued in store credit only.
Full-price items purchased in-store may be returned within two weeks.
For online orders, please email us within 5 days of receipt for return authorization. The item(s) must be shipped back to us within 14 days of receiving return authorization.
Sale items are final sale.
For complete details, please click here for the complete return policy.
Pre-Orders
Some of our products are available for pre-order, where you will see a "Pre-Order" button instead of "Add to Cart". If your order contains both pre-order and in-stock items, in most situations your order will be shipped in one shipment, when all items are available.
Have Product Questions?
Feel free to reach out to us by email at help@acaciasf.com, or click on the chat button on the lower right corner of your screen.
Home Goods. Elevated.
A collection of home decor and accessories, selected for you. Search no further.
"Hi, I'll take one of everything, please."
A Well Curated, Elevated, and Accessible Collection
At our retail store, we also often hear, "Can I move in?" Joking aside, we find this high praise. It means everything we've selected looks great and looks great together, and provides a sense of comfort and familiarity. Elevated, but still down-to-earth, where folks can imagine these items in their homes. Mission accomplished.
We're also about products made well, in more ways than one.
Not Just Buying Well, But Also Buying Kinder
We strive to support ethical and sustainable production by being mindful of our sourcing decisions, which can mean, for example, choosing products that use sustainable and natural materials, are made by artisans and craftspeople who live in places with worker protections, or uses a process that minimizes waste. We may not save the world with these measures, but we feel that at the very least we can choose to minimize further harm.
We also love supporting independent designers and craftspeople, and working with smaller, lesser-known brands. You'll find handmade pieces in our collection where we know who made it!
Secure transactions
Transactions are handled with bank-grade security.
Simple checkout
Our secure checkout is quick and easy to use.
Get in touch
Have questions? Send it to us by email at help@acaciasf.com, or use the chat button on the lower right of the screen. If we are not available to answer your question, we will respond within 24 hours.